Saving a still image with selecting destination and format
EDIUS All
EDIUS Neo 3.5
Export
Saving a still image with selecting destination and format
FAQ ID:KB01800007 | Date:2013/07/30
I want to save still image with selecting save destination and file format each time.
Firstly, you need to enable 'Save as' button in the timeline with below procedure.
1. Choose [Settings] > [User Settings].
2. User Settings window will appear. Choose [User Interface] > [Button] from the left-pane.
3. Choose "Timeline" as target window in the right-pane.
4. Choose "Create a Still Image (Save as)" and then click [>>] button.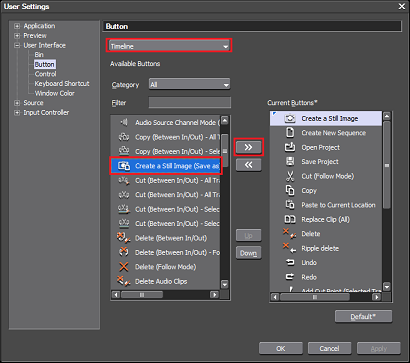 5. Click [Apply] and then [OK] button.
How to use 'Save as' button
1. Click 'Save as' button in the timeline.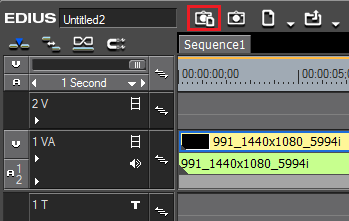 2. Save window will appear. Specify save location, file name and still format and then click [Save] button.
NOTE: If your EDIUS version is EDIUS 6.5, Neo 3.5 or Express, please update to the latest version to use this function.
---