PCIe Linked LED is flashing in Storm 3G Elite I/O box
PCIe Linked LED is flashing in Storm 3G Elite I/O box
FAQ ID:000025414 | Date:2022/12/27
PCIe Linked LED is flashing in Storm 3G Elite I/O box. What does it mean and how I shall work to resolve it?
PCIe Linked error  LED is here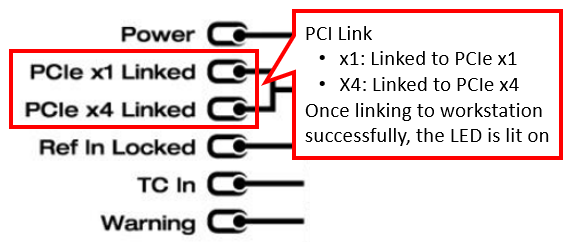 Prerequisite
Eensure that Power LED is lit on and Warning is not blinking. If either one occurs, resolve it
Troubleshooting:
If the LED is flashing, it means that hardware fault of I/O box or PCIe host card. In this case, try following steps
1) Shut down the workstation
2) Unplug Storm 3G Elite AC adapter
3) Disconnect the LVDS cable
4) Confirm if selected slot is usable – see 'Usable PCIe slot' more details.
5) If necessary, move the host card to another slot
6) Connect the LVDS cable then plug AC adapter to the I/O box
7) Turn on the workstation
If the issue still remains, Storm 3G Elite I/O box, LVDS cable or host card may be fault. Need to be replaced
   
Usable PCIe slot:
See the workstation user manual and selected PCIe slot does not have below element (either or both). These element may block valid linking – blinking PCIe Linked LED 
1. Transform function. For example, selected x4 slot is transformed to x8
2. Not linking to a processor. However, if you have one processor and select that type of slot, your device may not link.
Related Content
---