WER dump is not generated when crashing EDIUS application
WER dump is not generated when crashing EDIUS application
FAQ ID:000025568 | Date:2023/04/10
I merged a registry in order to get WER (Windows Error Reporting) dump file. But no dump is generated even though crashing EDIUS application
Our technical support may ask you providing WER dump. To follow the issue, we may ask merging the registry in order to get the dump file. But the registry doesn't configre required settings (instructed in this article). If WER dump isn't generated even though crashing EDIUS, any configuration may be incorrect. Follow below steps:
1) Sign into the OS with administrator privileges then press Win + R key.
2) Type SYSTEMPROPERTIESADVANCED.EXE then click [OK].
3) In Startup and Recovery, click [Settings].
4)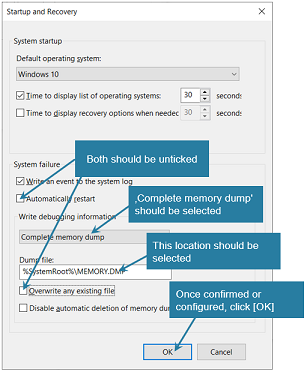 If any configurtion is changed, WER dump will be generated when crashing EDIUS next time.
---