Generic troubleshooting for issue of capture via video I/O hardware
Import / Capture / Data migration
Generic troubleshooting for issue of capture via video I/O hardware
FAQ ID:000025069 | Date:2023/01/10
This knowledge base informs generic troubleshooting for issue of capture via video I/O hardware
Symptom:
Below issue occurs while capturing a footage:
1. "PCI Bus Busy" error appears and capture stops
2. Video capture suddenly stops
3. Capture stops soon after starting video capture
  
Prerequisite:
1. Ensure that installed video hardware appears in the Device Manager without ! or X mark
2. In case of using third party hardware, ensure that applicable version of the software and firmware are being installed
3. In case of using third party hardware, also ensure that the hardware works well in vendor's software (capturing video should succeed in the software)
  
Troubleshooting:
1. Reimage the workstation
If the workstation worked well before and you do not apply any change like driver, OS upgrade, re-image the workstation is simplest troubleshooting. As soon as finishing reimagining the workstation, try video capture and observe recurrence of issue.
  
2. Upgrade EDIUS build (may be only for stand-alone editor)
If the EDIUS build currently running is earlier build, upgrade to the latest build. Once done, observe if the issue resolves or still remains
IMPORTANT NOTE: If the installer asks restarting or shutting down the workstation, do NOT miss to click appeared button to do it.
   
3. Re-install EDIUS
If currently installed is latest build, uninstall and re-install EDIUS in order to install required GV video hardware driver and detect required firmware
   
4. Capture video in another format
If used preset format has higher resolution and frame rate like FHD 59.94p, try to create lower resolution format like SD then test video capture by using the preset. This will be helpful to confirm if high load occurs in the workstation
   
5. Change capture destination
Change capture destination to local drive if you currently select external drive like network or USB. If this is not helpful, confirm if #3 is helpful on capturing to changed destination
  
6. Check and rebuild RAID volume
If the workstation has RAID volume to get high speed and it's selected as capture destination, check RAID status. If necessary, rebuild the RAID volume
   
7. Use another PCI-e slot
If the video hardware is PCI-e card, move to another slot
   
8. Turn off all capture events
In the System settings (Capture pane), untick all capture events before capturing video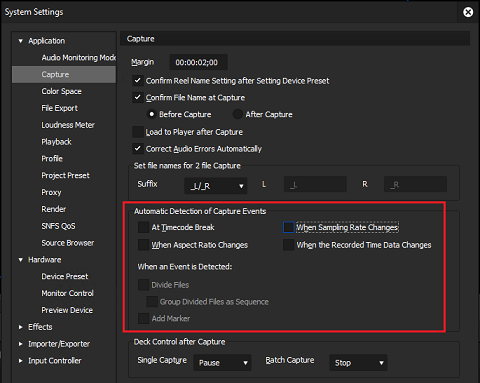 Related Content
---