QuickTitler text unexpectedly changes / disapeears when loading a title in another PC
QuickTitler text unexpectedly changes / disapeears when loading a title in another PC
FAQ ID:000023551 | Date:2023/05/23
When I create QuickTitler clip in a PC then open it in another PC, text size unexpectedly changed / disapeeared. How I can resolve the issue?
Most likely causes:
1. OS DPI settings might be different between of EDIUS client like desktop and laptop
2. Used font might not be installed in another PC
  
Solution:
For #1
Follow below steps:
1) Press Win + I key then select > System > Display 
2)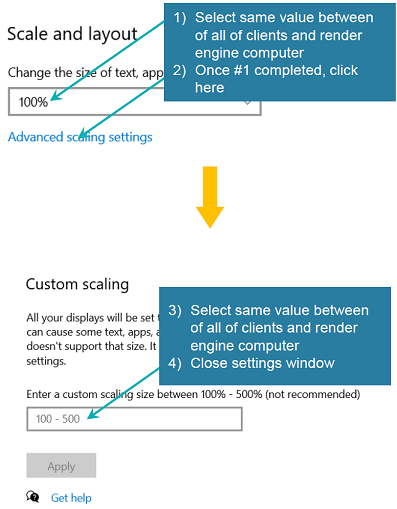 For#2
Follow below steps to install fonts in the problem PC:
1) Download / Acquire Needed Windows font. 
2) Right-click on the TTF font and choose install.
3) The application using the font needs to be restarted; some applications require the entire computer to be restarted.
  
Use .etl2 format in QuickTitler
QuickTitler also supports .etl2 file format. This format is not affected by different DPI settings. If you have to use different DPI between of EDIUS client PCs, use .etl2 format. You can set it as default format by merging registry.
Related Content
---