Cannot apply a clip transition or audio cross fade
Cannot apply a clip transition or audio cross fade
FAQ ID:000025402 | Date:2022/12/20
I cannot apply a clip transition or audio cross-fade. How do I solve this problem?
This problem may be caused by either of the following:
1. Clip has insufficient part to extend it
2. You are not working in fixed mode
Confirming clip margin
If the clip has insufficient captured material, a black triangle mark will appear at the corner of the clip. In this case, trim back the clip to give it enough material to effect the transiton and then apply.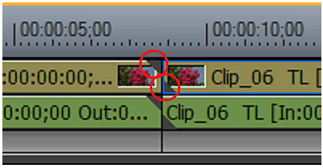 Switching to fixed mode
1) Select [Settings] > [User Settings] > [Application] > [Timeline]
2) Uncheck "Extend Clips when Applying Transition / Cross Fade".
3) Click [Apply] and then [OK] button,
---