Audio waveform does not appear in the timeline
Audio waveform does not appear in the timeline
FAQ ID:000025852 | Date:2023/10/24
I placed a clip onto the timeline and expanded audio track. But audio waveform is invisible
Prerequisites
– Placed clip should have audio and the format should be supported by EDIUS.
– Confirm both by following steps: Install a program that displays technical information about media files – in this knowledge base, MediaInfo is installed. Open the problem file (no auido waveform appears in EDIUS) in the MediaInfo.
– Confirm below two points in the tool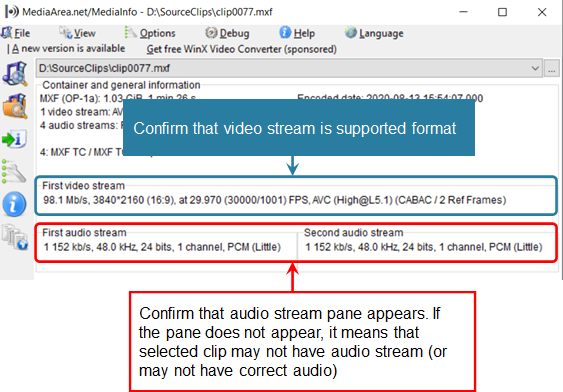 NOTE: See 'Supported file formats' knowledge base to confirm whether selected clip is supprted by your EDIUS version – click the links in 'Related Content' pane
Troubleshooting
If selected clip satisfies the requirements, try below troubleshooting:
Change .ewc2 location and creation timing
1) Select Settings > User Settings > Application > Other
2) Ensure that 'Create Waveform cache when registering clip' is ticked. Tick the option if it's deactivated (not ticked)
3) Tick 'Create waveform cache files in project folder'
4) Click [Apply] > [OK]
5) Remove the clip from both Bin and timeline then reregister into the Bin
6) Confirm whether waveform cache appears once the clip is placed onto the timeline.
Register a clip from local drive
 
If source clip or project location is / are network drive, permission issue may cause the issue. To narrow down. Try below steps for narrow down:
 
1) Remove the clip from both Bin and timeline
2) Copy same clip to local drive
3) Register it into the Bin
4) Confirm whether waveform cache appears once the clip is placed onto the timeline
Confirm job list and status – only EDIUS X and 11
 
Confirm below points in the Job Monitor:
 

 
If waveform cache creation itself was not queued or queued job failed, try below steps:
 
1) Remove the clip from both Bin and timeline
2) Overwrite the project or save it via 'Save as' menu
3) Restart the OS
4) Ensure that all EH services have 'Running status' – details here
Related Content
---