EDIUS X Workgroup: NDI output support
EDIUS X Workgroup: NDI output support
FAQ ID:000025358 | Date:2022/12/06
This knowledge base exlains NDI® output support
NDI® stands for Network Device Interface and it is an IP video production protocol originally developed by NewTek.. From EDIUS 10.34.9631, EDIUS supports NDI output for preview. This function is only available in EDIUS X Workgroup
Build simple test system
Prerequisite
Ensure that NDI device and EDIUS workstation are in same network
Preparation
Complete below action on EDIUS Workstation and PC that works as NDI monitor:
PC#
Usage
Required action

PC#1

EDIUS
Workstation
Any build of EDIUS 11 supports the function
EDIUS X requires 10.34.9631 or later – click here

to get the build

PC#2

NDI monitor

Download

and install NDI Tools
Prodedure
1) Select Settings > User Settings > Preview > Monitor
2) Tick Enable NDI Output
3) Click [Apply] then [OK]
4) From View menu, select NDI Output to be turned on
5) In NDI device, select the preview screen type (Recorder, Player or Multicam Source)
6) Preview screen will be surrounded with orange frame and NDI icon will appear during NDI output is turned on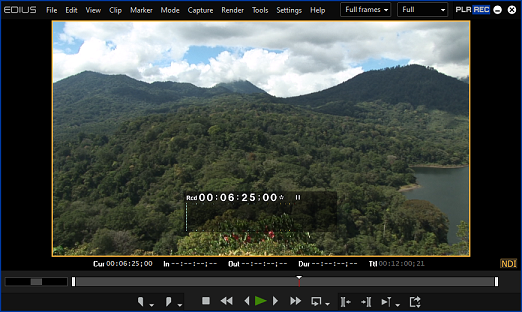 NOTES
1. Upper filed or Progressive should be selected in project settings. Lower field is not supported depends on the design of NDI SDK 
2. Once you exit a project or quit EDIUS application, NDIw output is automatically turned off as designed. Reselect NDI output from View menu when starting a project next time
NDI.tv is the Official Destination for All Things NDI. NDI® is a registered trademark of NewTek, Inc.
---