EDIUS System Reporter dialog appears
EDIUS System Reporter dialog appears
FAQ ID:000025599 | Date:2023/04/27
"EDIUS System Reporter" dialog appears while starting EDIUS or editing a project. How shall I do next?
EDIUS application is being monitored. This process starts as soon as starting EDIUS and continues until quitting the application. If no update of the UI is detected, this dialog will appear.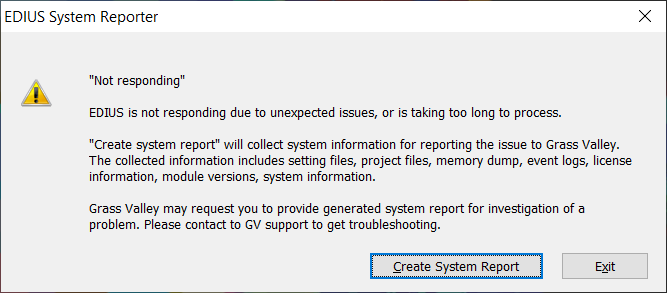 Required action:
1. First time, click [Exit] and retry same operation. If the dialog does not appear, observe if the issue occurs again.
NOTE: There are occasions where EDIUS would not come back and would hang forever. In case EDIUS does not react on user input, please end the EDIUS process and try again.
2. If the dialog appears again, please try to click [Create System Report] then select destination and click [Save]
NOTE: System report file name will be automatically entered. Please do not change the file name.
3. Note down the operation that was done just before appearing the dialog.
4. Try suggested troubleshooting – see Related Content
5. If the issue still remains, contact to regional support along with the information you got in #2 and #3
Related Content
---